Description
SCS Wind Powered Seagull Deterrent
This Wind Powered Deterrent is a spinning visual deterrent used to prevent seagulls from landing on boats, cars, chimneys, roof mounted HVAC or other surfaces about 8 feet across or less. It works most effectively where there are constant breezes, such as boats on moorings or lofty exposed areas.
Each unit features reflective "predator eyes" to confuse and scare gulls from coming near the protected area. The arms rotate to cover a 6 foot diameter, but this deterrent is effective several feet beyond that. The base is glued or screwed permanently to the surface you are protecting and the spinning arms are easily detached and stowed for cruising. Or choose one of our optional mounting systems for your specific project.
And the spinning arms are easily removed when cruising.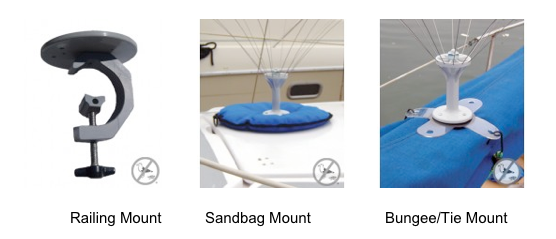 Choose one of these optional mounts for your boat, car or other specific situation. The SCS Wind Powered Seagull Deterrent comes in four varieties depending on the area or equipment you are protecting. Shipping will be added at checkout.
SCS Wind Powered Seagull Deterrent Kit, Standard Mount
Price: $65.00
SCS Wind Powered Seagull Deterrent Kit, Railing Mount
Price: $85.00
SCS Wind Powered Seagull Deterrent Kit, Sandbag Mount
Price: $115.00
SCS Wind Powered Seagull Deterrent, Bungee/Tie Mount
Price: $70.00
Note: The Sandbag Mount weighs about 5 pounds because the manufacturer supplies it full of sand. This is more expensive to ship due to the weight.
Questions? Call at 347-389-5533 or email info@seagullcontrol.com with questions.
To our customers in Canada: Shipping charges to Canada are about one third more than to US destinations because we do special packaging and handling to facilitate trouble-free delivery by UPS. Our costs are significantly higher, some of which are reflected in higher shipping rates.
Sandbag Mount Shipping Charges: Please be advised that sandbags are shipped with the sand inside—the manufacturer's policy– and weigh just about 5lbs each, which costs us significantly more to ship.   This results in a higher shipping price for this product.