Recent Projects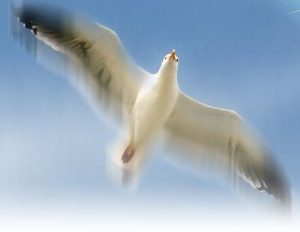 Here is a representative sample of our recent seagull deterrent projects. This will give you an overview of the types of seagull infestations we remedy without harming the birds or annoying the people who live, work or play in these facilities. Our experience is wide ranging and varied, so no matter how intractable your seagull problem we have a solution that will prevent seagulls from roosting, nesting, and polluting your property.
---
Anchorage Alaska US Post Office—summer 2022
The roof of the main post office in Anchorage had been damaged by a persistent colony of seagulls that nest annually on the roof.  In 2021 the USPS solicited bids to replace the roof and required a seagull deterrent plan in the request for proposals.  Seagull Control Systems was specified as the preferred designer/supplier of a gull mitigation system, requiring bidders to use our system or an equal or better method.  The winning bidder, Contract West based in Salt Lake City, partnered with us to design and deliver our SCS Grid Wire Seagull Deterrent System, a method developed by the US Department of Agriculture Wildlife Service that we have modified for efficient installation and robust durability on roof tops.  Our design was approved by USPS and delivered to Anchorage for installation by Contract West.  The seagull infestation was eliminated immediately after the system was installed, and it continues to prevent gull colonization on the roof.
---
San Diego Airport Solar Panel Arrays—2019 and 2022
Soon after the airport authority installed solar panels over the main outdoor parking lot the panels attracted seagulls.  Gulls are flocking birds and feel safer, more comfortable in large groups.  A few gulls were enjoying the warmth of the panels and the resulting updrafts as an aid to takeoffs   Over the next year the numbers of seagulls roosting on the panels increased to a point where power output was degraded by their white droppings, requiring frequent and expensive cleaning to restore the normal electric generation capability.
The airport authority has a pest control contract with a local operator, Agricultural Pest Control, who consulted with us on the best way to eliminate the seagull infestation on the panels.  We submitted a proposal to install our grid wire system, modified for solar panel protection.  This required us to fabricate special aluminum pole holder bracket to attach to the edges of the panel array, extending out far enough so the grid wire poles could support the grids across the panel array.  This worked as promised, eliminating the gull infestation in 2019 on the first large panel array.  We were asked to come back in 2022 to protect another solar panel array at the airport, with another planned  budgeted for 2023 or 2024.  The cost of our seagull deterrent systems is now being recovered by consistent power output and much reduced cleaning expenses.
---
General Motors Flint Assembly Plant, Flint MI – March 2020
The environmental manager at GM contacted us to tackle a serious seagull infestation that was interfering with workers and routine plant operations.  Gulls were nesting in large numbers on trestles that crossed over roads within the plant, resulting in seagull pollution on the roads and work areas.  Large colonies of gulls were roosting on roofs, resulting in clogged roof drains from feathers and nesting debris.
We designed, delivered and installed a seagull deterrent solution that included our SCS Grid Wire Seagull Deterrent System and our SCS Seagull Deterrent Spikes.  A few weeks after the installation the feedback from plant management was all positive; gulls are gone, no nesting, no pollution.
---
Toledo Area Regional Transit Authority – April & June 2020
When he arrived at this bus maintenance facility, which takes up an entire city block, our installation contractor told us the seagull infestation "is the worst I've seen in 20 years doing this work."  Even the local newspaper, the Toledo Blade, had written about the attempts by TARTA management to get rid of the gulls and their pollution on buses and workers' vehicles, on fouled skylights, walkways and parking areas.  Nesting was pervasive on this roof, resulting in aggressive gull behavior that prevented workers from servicing HVAC.
We designed, delivered and installed our SCS Grid Wire Seagull Deterrent System.  The result was so successful that TARTA asked us to return two months later to install our deterrent system on another building and the fuel bay.  After years of battling gulls, the facility is now free of the infestation and resulting pollution.
---
In February 2018, the US Navy specified the SCS Grid Wire Seagull Deterrent System for two new projects.
On the west coast, the navy's SEAWOLF Class Service Pier at Naval Base Kitsap in Silverdale, WA, was being extended for servicing nuclear submarines. This project required the contractor to install our SCS Grid Wire Seagull Deterrent on a new roof over part of the pier extension.   On the east coast, at General Dynamics Electric Boat Division in Rhode Island, an extensive rehabilitation of two buildings at the nuclear submarine facility was out for bid. The navy has specified Seagull Control Systems as the supplier of a grid wire seagull deterrent systems for the new roofs on these buildings.
The US Navy is determined to eliminate the damage and pollution that seagull infestations bring to naval facilities. Because of our proven effectiveness over more than a decade, the navy is now specifying– by name– our grid wire deterrent method for these and similar projects on both coasts.  We are proud to have been selected as the US Navy's seagull deterrent supplier for these submarine service facilities.
We received this unsolicited note from a Caterpillar dealer in Wisconsin in August of 2018. It was a genuine act of kindness that made our day. We were not surprised to read about this successful outcome—it's a typical result of our SCS Grid Wire Deterrent System for flat roofs and docks. (We are not publicly revealing contact information out of respect for his privacy)
"Good afternoon,
I hope everything is going well with you out East! I just wanted to fill you in on the progress of our Seagull Control System that we purchased from you this spring. Every day at 7:30am we started to see hundreds of Seagulls flocking in to "roost" and "hang out" on our rooftop, at that time they would bring their findings from the local landfill and feast all day long. The waste and debris from the birds would then get washed down from the roof to the entryways of the facility when it rained. Once the Seagulls started their molting process, all of their feathers would get sucked into our HVAC system which required costly service visits from a local repair company to keep our heat and air conditioning working. We had such a terrible problem with bird feces on our employee's and customer's vehicles that I found myself washing cars and trucks more than performing my daily tasks, it was getting out of hand in a quick hurry to say the least!
To be perfectly honest with you, I did not feel that your system would help our situation at all as it was so bad and nobody in the area had ever seen or heard of such a remedy. After my company decided to "give it a try", and order the kit, I started working with you on what components would best suit our roof design and what level of grid layout would be most beneficial. Since I knew absolutely nothing about Seagull Control I put my trust into your experience. The Customer Service and Communication that you gave us throughout the transaction was so spot on, I cannot say enough positive things about it.
This email is to let you know that after installing the Seagull Control System, we have not had one bird even attempt to land on our roof all summer long. The system has held up awesome, it is obviously a very good quality product. I greatly appreciate everything that you have done to help our company take care of this problem. Thanks again. I sincerely hope that we can work together on another project in the future."
---
A severe seagull infestation, including nesting, on a large solar energy project in Boston.
The seagull splats on the panels significantly reduced energy production. The cost of cleaning the panels every two months was way over the projected annual maintenance budget. The solar investment group manager contacted Seagull Control Systems to permanently end the seagull infestation. Working with the panel installation contractor and the investor group, we designed a test phase, using our SCS Grid Wire Seagull Deterrent System modified for solar panel protection. In spring, 2017, the contractor installed our system on a portion of the solar panel array. The test phase was a complete success. Seagulls abandoned the test section and stayed away through nesting season and afterwards.
The rest of the panels were protected with our grid wire system in fall, 2017. Energy production has returned to expected capacity. The solar panels are pristine.
---
Two Complicated Seagull Deterrent Projects, Same Week, Opposite Coasts (Summer 2017).
Gorgeous cliff-top home in Tiburon, the California jewel. Seagulls were polluting the expansive deck, paddling in the infinity pool, roosting and pooping on the limestone wall that enclosed this outdoor dining and entertainment area. Spectacular views of San Francisco Bay and the city skyline were marred by the screeching seagulls that had taken over part of this extraordinary property. The property manager was desperate for a solution to this seagull invasion. Their acidic splat was discoloring the limestone and polluting the pool and patio. The Singapore-based owner was arriving soon for a month-long visit.
We offered a solution—a grid wire deterrent system, mounted on the limestone wall with clamping devices we had specially fabricated for this use, with wires strung high above the deck, running up to the house. A key feature—easy to uninstall when the owner is in residence and reinstall when he leaves. The day after installation all seagulls were gone, and the day before the owner's arrival the deterrent system was uninstalled. The seagulls had by then found other nearby places to roost and pollute. The property remained seagull-free during his occupation.  After his departure, the system was reinstalled in a couple of hours, protecting the wall, deck and pool from a return of the seagulls and their nasty waste.
Three thousand miles to the east, as nesting season came to an end in July, a newly renovated $7 million beach-front home in the Hamptons was infested with seagulls. The new owner refused to take possession until the builder solved the seagull problem. She had read about the pathogens that are common in seagull feces, including a recently identified anti-biotic resistant strain of E. coli that she worried could infect her and her family. Seagulls were on the roof peaks, the chimney, the upper story balcony ledges, the new white stone deck and seawall separating the deck and pool from the beach. Gulls used the deck to break open clams and mussels, and feces were everywhere on the deck. Feathers floated in the pool and hot tub. A festive housewarming party was scheduled in two weeks, and that would be ruined by the gull pollution.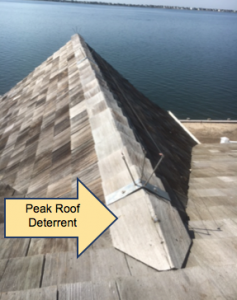 We got a call from the builder to design a solution. We recommended the builder install our unobtrusive SCS Peak Roof Seagull Deterrent System (see photo–seagulls can't land on wires) along with SCS Seagull Deterrent Spiders for the chimney and turret peak. SCS Wire Deterrents should be installed on the balcony ledges—barely visible nylon coated stainless steel wires on widely spaced 6 inch stainless teel posts.
The builder installed our SCS Grid Wire Seagull Deterrent System following our detailed instructions, mounting our customized brackets on 4X4 wooden footings driven into the beach sand on the seaward side of the sea wall to support 8-foot poles for the grids. The builder strung our grid wires from the poles up to the second story of the house in a pattern we designed. The poles were unobtrusive in their beach location, and the nylon coated stainless steel wires, only 0.9mm diameter, were virtually invisible to people on the pool deck. But not to seagulls. The gulls immediately abandoned the property, just in time for the party, which was a great success. Builder, and the owner, are very happy clients.
---
KwaTaqNuk Casino & Resort, on the shore of Flathead Lake in Big Sky Country, Montana, occupies a spectacular lakeside location. Surrounded by the Rockies, it welcomes visitors to enjoy a break from real life with outstanding food, comfortable rooms, a large marina and a world-class gaming casino. Only the seagulls roosting on the roof peaks marred the experience. The facilities manager contacted us in 2016 with a request to design and deliver a deterrent system that would be unobtrusive, would permanently end the unsightly mess these resident seagulls were causing, and require little maintenance in this harsh winter climate. We delivered the SCS Peaked Roof Seagull Deterrent System ready to install by his in-house maintenance crew, using ordinary tools and skills, following our detailed instructions. The system was installed on every roof and gable peak. The seagulls left immediately and have completely abandoned the facility. No more mess, no more pollution, and the lifespan of the roof is no longer being degraded by the acidic seagull waste.  Two years later, in 2018, we received a note thanking us for the solution and affirming that the property remained free of gulls and their pollution.
---
Monterey Boat Works is a full service marina and boat builder located next to Canary Row, the iconic testimonial to the California sardine fishery. Which explains the enormous seagull population that creates a pollution problem for many of the businesses in town. The marina manager asked us to design and deliver a seagull deterrent system for their boat house, a large building with a long, sloping roof. They hired a local contractor to install the system in just one day, following our detailed instructions. The deterrent effect was so successful we were asked back a year later, this time to eliminate the seagull problem on their restaurant peaked and gabled roof. That was completed in 2015, and in 2016 we added another small area on site, completing the seagull elimination project to the complete satisfaction of the owners and the manager. When asked by a prospective Seagull Control Systems customer about her experience with us, she said "they are a very reliable company, and a pleasure to deal with."
---
Green Energy Consulting & Construction, located in central Pennsylvania, is a leader in the design and installation of solar and wind energy generation in the mid- Atlantic states. One of their customers, a marina in Avalon, NJ, had a serious seagull infestation on two of the solar panel arrays that GECC had installed. No one could have anticipated the damage that the gulls were causing. They were using the panels to feed on clams, flying over the panels, dropping the clams on the panels, breaking both clams and panels, and then landing on the panels for their feast. The result—anywhere from 2 to 6 panels required replacement each month, while the white seagull splat significantly degraded the solar power output. We partnered with GECC, designing and delivering our SCS Grid Wire Seagull Deterrent System  which permanently eliminated the seagull problem. No panels have been broken since the installation in the summer of 2016, and both arrays are completely splat-free. A shout-out to Green Energy Consulting & Construction for standing behind their work. They followed through, in partnership with us, to eliminate a problem that a less responsible company could have walked away from.
---
DTE Energy (formerly Detroit Edison) Power Plant on Lake Erie, Monroe, Michigan
The cooling water discharge from steam turbines keeps the lake ice free along the shore, attracting fish that are a winter-time feast for bald eagles and thousands of seagulls. The gulls interfered with workers and left a polluted mess on building roofs and interior walkways. Nothing scared them away, not even the eagles. Seagull Control System was called in to analyze the problem. We proposed an extensive seagull deterrent project protecting five buildings where the seagull infestation was most intense.
We designed, custom-fabricated and delivered the SCS Grid Wire Seagull Deterrent System™ for each of the roofs (one on the far left, two farthest right, and two adjacent to the stack), requiring modifications to accommodate different roof surface materials, roof mounted structures such as HVAC, and roof layout. We worked cooperatively with their local maintenance contractor on the installation. Results were immediate and, months later, continue to substantially reduce or entirely eliminate seagull activity on and near these buildings. Management was so pleased with the outcomes they invited SCS back to protect a large fuel tank where nesting had been taking place (the white one between the stacks). To protect their nests, seagulls were physically attacking workers who were taking fuel level readings on top of the tank. Our grid wire system, modified to work effectively on a circular surface, used clamps to secure the poles supporting the wires.  This avoided the need to pierce the steel tank. Seagulls immediately abandoned this area and workers are no longer harassed by the diving, poop-bombing birds. These successful seagull deterrent projects in 2015 and 2016 resulted in funding to eliminate seagull infestations on five more buildings that was completed in spring of 2017.
---
Port of Tacoma, Washington – 2012-2020
Over the past nine years the port has been re-roofing facilities such as warehouses, piers and work/office buildings.  Beginning in 2012 Seagull Control Systems conferred with the architects to design a seagull deterrent concept that could be modified to easily adapt to various port facilities as they were included in this project.  Our SCS Grid Wire Seagull Deterrent System™ was specified in the bid RFQs.  We have worked with local roofing contractors for the past three years, completely eliminating seagull infestations on the new roofs.  The Port management is very pleased with the results and, after protecting eight buildings in four phases of the project, they continue to designate SCS as the seagull deterrent standard for the Port of Tacoma.
---
US Navy, The Naval Post Graduate School in Monterey, CA – 2010-2014
Seagulls were infesting the flat roofs on four buildings.  In 2010 we designed and delivered a Grid Wire Deterrent System™ to their designated contractor and worked closely with the contractor to install the deterrent system on the library roof.  The infestation ended immediately and a year later the navy asked us to protect three more buildings on the campus.  Since then we've worked with them to partially uninstall and reinstall the deterrents to make way for solar panels and other major roof work.  We continue to work with the designated contractor for routine maintenance of the deterrent system.  The building roofs and solar panels remain entirely free of seagulls and their pollutants.
---
Prince William County Solid Waste Transfer Facility – 2012-2015
Although located far inland from the sea in the Virginia countryside, it was invaded by seagulls. They were attracted by the presence of food waste even though this facility is highly rated for its innovative recycling programs and overall excellent waste handling practices. We were asked to design and deliver a Grid Wire Deterrent System™ to protect workers and equipment from seagull "bombs" and the resulting pollution. We delivered a deterrent system that protected garage building roofs, truck unloading areas and adjacent offices. The seagull problem was eliminated in these areas where people had previously been harassed by the gulls. Three years later in 2015 the management asked us to design and deliver a Grid Wire Deterrent System™ for a newly-built waste handling building. Our concept of seagull deterrence was proven in a very difficult environment, resulting in an expansion of the original deterrent system as the solid waste facility expands.
---
The Great Lakes
The Great Lakes are an ideal seagull habitat with plenty of urban food sources and a robust seasonal boating infrastructure.  Those fortunate folks enjoy a boating paradise, but marred for some by seagulls infesting docks, pools, residences and outdoor dining.  Here's a note from a grateful Great Lakes boater whose property is now seagull free thanks to our Grid Wire Deterrent System™ designed for docks.  It does not interfere with people enjoying the waterfront, but seagulls find it so threatening they leave and never return.  A delighted customer wrote "Our dock is the talk of Whitney Bay Just so you'd know, you weren't lying about your poles and monofilament.  We put it up on Friday – after scrubbing down the dock again – and BINGO, no gulls … zero … immediately and none since.  They avoid it like the plague.  I was ready for a two-week waiting period, but we didn't need it.  Amazing!  Our dock is now the talk of Whitney Bay, with lots of looking and pointing from people. You said it works. The truth was in you."
---
Speaking of Boating
Nothing is more disgusting than seagull crap all over your Bimini, T-top, cabin roof or boat lift cover. Seagull waste is often laden with E-coli, salmonella, parasites and other bad things—after all, seagulls feast on garbage. Thanks to us humans, only recently have seagulls changed their eating habits from fresh seafood to chicken bones and old fries. It's no wonder the US Center for Disease Control & Prevention terms seagulls "disease vectors". We sell hundreds of Seagull Deterrent Spiders™ that easily mount on your boat with bungee cords, railing clamps or our super convenient canvas sandbag. They stow easily too, and their solid all stainless steel construction means many carefree seasons protecting your boat from seagull pollutants. Here's a note from a very satisfied Lake Champlain boater who purchased SCS Seagull Deterrent Spiders™ for his moored boat: "Just wanted to drop you a quick note to let you know how pleased I am with the Spiders. Not a single gull assault all summer! They are so easy to rig compared to what I used to do. And thank you for sending me those spare clips right away. Your support is outstanding and much appreciated. The Seaway was great. Love it. Put 207 hours on it. Can't wait till next season. It's a comfort to know the seagull threat has been mitigated if not eliminated."
Seagulls thrive in a flat open environment—the sea—so they won't settle on a sloping roof. They will, however, roost on roof peaks where the feel safe, easily spot potential food sources and can quickly escape if a predator is seen. We feature a Peaked Roof Seagull Deterrents that is easy to install and creates an environment where seagulls cannot land. Once the roof peaks are off limits the seagulls leave your property and never return. I
A year after supplying  our SCS Peaked Roof Seagull Deterrent System we checked back with a homeowner in British Columbia who had been made miserable by years of seagull invasions which degraded her peaked, gabled roof and polluted the walkways and patio. Here's her reply to our "how is it going?" note. "…thank you for following up.  The deterrent system was installed by the recommended contractor, and the seagulls have disappeared from our home, and a few homes around us as well.  So far, so good.  We are enjoying the first quiet late spring, summer in 3 years."
Check out these methods for ending your seagull infestation on our Products or Solutions page. And always feel free to call us at 347-389-5533 or email info@seagullcontrol.com to discuss your seagull problem. Put our many years of seagull prevention experience to work on your property.