Seagull Control has the expertise to keep seagulls away – permanently.
Seagull Control Systems® has extensive experience determining the most effective seagull deterrent solutions for your seagull problem. For over a decade our seagull deterrent products have permanently eliminated seagull infestations in hundreds of real world applications all across North America.
Flat and peaked roofs, docks and piers, solid waste facilities, solar panel arrays—you name it and we've solved a seagull problem, We have never failed to get rid of seagull infestations.
Keep seagulls off roofs – keep seagulls off boats – keep seagulls off docks – keep seagulls away. Get rid of seagulls- permanently.
We know how to transform an environment where seagulls feel safe and comfortable into a location they fear and avoid.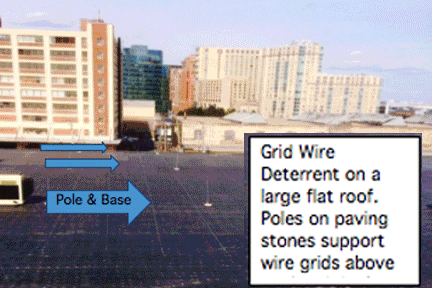 We use seagull deterrent technologies recommended by the US Department of Agriculture Wildlife Service.  
We only use seagull deterrent methods that work permanently.
We never use nets, traps, or other methods that can harm seagulls or other wildlife.
Seagull deterrents are our only business—we are experts in this specialized bird control area.
If you are a homeowner, a boat or dock owner you've come to the right place.  Click Solutions, then click on your Problem and you are about to end the pollution, bacteria and parasites caused by seagulls on your property
If you have a commercial facility with a flat or peaked roof, a shopping mall, outdoor dining, a warehouse, factory, food processing plant, solid waste transfer station, water purification plant or reservoir, working pier or other large industrial structure invaded by seagulls, click Industrial/Commercial. We will design and recommend the seagull deterrent you need, delivered to your facility for efficient installation by your contractor or workers with our full support as needed.
If you have a solar panel array infested with seagulls that degrade the energy output and require constant cleaning, we will eliminate the problem immediately and permanently. Our solar power solution pays for itself with dramatically reduced labor costs and a return to consistent predicted power output. Click Solar Panels and give us a call to learn more about how we eliminate nesting and the filth that seagulls deposit on your panels.
Pest control/Wildlife abatement operators—we can partner with you as your seagull deterrent experts, your back office, delivering solutions for you to deliver to your clients. Click Industrial/Commercial and give us a call.
Seagull Control welcomes your phone calls to discuss your seagull problem in detail: (347) 389-5533, email us at info@seagullcontrol.com or send a note through our Information Request Form.  We earn our A+ Better Business Bureau rating every day with excellent customer service.

To our Canadian customers: Most of our products are NAFTA compliant, no import duty and we pre-pay GST for your convenience. To see details, click Canada.