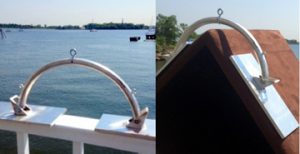 SCS Roof Ridge Hinged Bracket Deterrent System
Fits snugly on any angle of slope from your roof ridge, from shallow to very sharp. These brackets carry three parallel lines (or more, depending on design considerations) above and alongside the roof peak, preventing seagulls from landing. Seagulls cannot land on wires. When you make the peaks off-limits seagulls will abandon your roof and find other, more congenial places to roost and pollute.
The brackets are made with heavy gauge aluminum and stainless steel parts that will not rust or corrode. The hinged plates can be screwed down to the roof surface and sealed to prevent leaks, but if your roof warranty prohibits any penetration use silicone based construction adhesive that will bond the snugly fitting bases to your roof, no matter what the angle of slope. Each bracket should be spaced 10 to 15 feet apart along the peak from one end of the roof to the other.
The nylon coated stainless steel wires are strung bracket to bracket, attached to the eyelets and secured with nickel coated copper crimps. You can paint the brackets to blend with the roof, or leave them in this industrial brushed aluminum finish. The SCS Roof Ridge Hinged Bracket Deterrent System carries a 5 year warranty against breakage and will last as long as your roof. It is entirely aluminum and stainless steel, non- corrosive and virtually maintenance free even in the harshest climates.
These brackets are fabricated by us to accommodate roof vent caps, slope angle, bracket spacing and other considerations in order to carry wires over the ridge at an appropriate height for maximum deterrent effect. As a rough pricing guide each bracket costs approximately $150-$200 depending on quantity, size and wiring considerations. Wires & crimps are an additional cost. For information specific to your building:
Call or email us with the length of your peak, any gables or drop downs (a couple of photos are very helpful) and we'll quote an exact price along with ordering details. No peaked roof is too complicated, too small or too large for us to design a permanent solution to end your seagull infestation and the pollution that comes with it.
We'll answer your questions and recommend the appropriate kit for your roof. 347-389-5533 or email info@seagullcontrol.com and we'll call you at a time that's convenient.