Seagull Control has the expertise to keep seagulls away – permanently.
Seagull Control has extensive experience designing and manufacturing seagull deterrent systems for installation in hundreds of real world applications. Keep seagulls off roof – keep seagulls off boat – keep seagulls off dock – keep seagulls away – get rid of seagulls. Flat and peaked roofs, docks and piers, solid waste facilities, solar panel arrays—you name it and we've solved a seagull problem, We have never failed to get rid of seagull infestations. We know how to transform an environment where seagulls feel safe and comfortable into a location they fear and avoid. Give us a call to discuss your seagull invasion. We usually ship seagull deterrent kits within 24 hours to all US states and Canada via UPS.
Our seagull deterrent technologies are recommended by the US Department of Agriculture and the Navy. We eliminate seagull infestations without noisemakers, nets, traps or other harmful methods.  See our Solutions page to solve your seagull problem.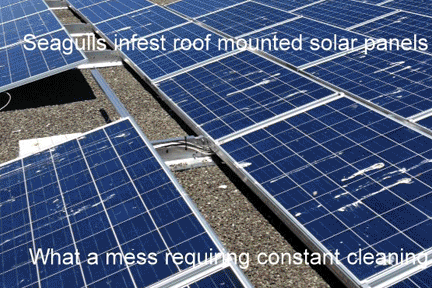 We design and manufacture seagull deterrents in our aluminum fabricating and welding shop.
We custom build or we source seagull deterrents from the highest quality manufacturers.
We use only the most effective and least invasive technologies.
If you have a serious and intractable seagull infestation we offer expert consulting services and products that will end the pollution and damage.  No one knows seagull deterrents like we do.
If you are a homeowner, a boat or dock owner – anyone with a serious seagull infestation – you've come to the right place.  Click Solutions, then click on your Problem and you are about to end the pollution, bacteria and parasites caused by seagulls on your property.  We will get rid of your seagulls – permanently.  Seagulls will find other unprotected places to roost and pollute.  Your property will be seagull-free.  Permanently.
If you have a flat or peaked roof, a commercial facility such as a marina, solar panel array, warehouse, food or fish processing plant, municipal waste transfer station, water purification plant or reservoir, working pier or other large structure invaded by seagulls, click Industrial/Commercial.  We will design, build and deliver the seagull deterrent you need, manufactured for efficient installation by your contractor or workers.  From our New York offices we design, fabricate, deliver and consult on seagull deterrent projects in all 50 states, in Canada, the Caribbean, the UK and Ireland.  No more pollution on your shoes, in offices, cars and homes. Our deterrent systems pay for themselves – no more power washing. Our deterrents are very low maintenance and warrantied to last many years in harsh climates.  End your seagull menace. Permanently.
Seagull Control welcomes your phone calls to discuss you seagull problem in detail: (347) 389-5533, email us at info@seagullcontrol.com or send a note through our Information Request Form. 

Most of our products are NAFTA compliant, no import duty for our Canadian customers, and no COD provincial tax or GST. See details by clicking Canada.