SCS Seagull Wire Deterrent Kit
Includes: Seagull Wire, Bases, Rivets, Crimps, Springs, Clamps
SCS Seagull Wire Deterrent Kits are used to keep seagulls off ledges, parapets, rooflines, handrails and more. Seagull Wire consists of a nylon-coated stainless steel wire that is suspended between a series of posts along the railing, parapet or ledge. The wire is attached to springs and crimped to the posts. Seagulls will not land on or roost beneath the wires. The posts and wires are low profile, low visibility, and they carry a five year manufacturer's warranty. This system is guaranteed to end your seagull infestation permanently.
Seagull Wire Deterrent Kits can attach to flat or round hand rails, roof parapets, girders and ledges - any narrow surface infested with seagulls. The height of the seagull wire above the surface ranges from 3 1/2 to 6 inches and the posts are mounted with screw-in or glue-down bases. One to three parallel lines of wire are recommended, depending on your particular area, and stainless steel springs keep the lines taut over time.
Prices will depend on the size of the area you want to protect and the hardware you'll need from us to install the this seagull deterrent system. As a very general guide to pricing you can figure on:
One hundred linear feet of railing, parapet or similar narrow surface protected with two or three parallel lines of wire, all the hardware and other components that you will require.
Cost is approximately $300-$400 as a rough estimate without any details known.
Email us photos, measurements and a description of the area for a customized Kit description and exact price quote. We welcome phone calls to discuss your seagull deterrent project in detail, with no obligation of course.
We have designed these deterrents for hundreds of locations so you can count on a proven solution to your seagull infestation.
Canadian, Mexican and overseas customers email/call to discuss shipping options. Five year warranty on all parts. Satisfaction guaranteed.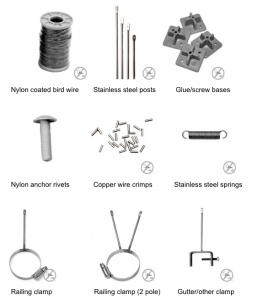 Give us a call at 347-389-5533 or email info@seagullcontrol.com with questions.
Updating...