SCS Roof Ridge Hinged Bracket
Fits snugly on almost any angle of slope from your roof ridge, from flat to very sharp.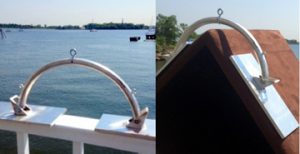 These brackets carry three parallel lines above and alongside the roof peak, preventing seagulls from landing. Seagulls don't feel comfortable landing on sloping roofs. When you make the peaks off-limits seagulls will generally leave your roof and find other, more congenial places to roost and poop. (Pelicans stay away too).
The brackets are made with heavy gauge aluminum parts that will not rust or corrode, even in the harshest climates. The hinged plates can be screwed down to the roof surface and sealed to prevent leaks, but if your roof warranty prohibits any penetration use silicone based construction adhesive that will bond the snugly fitting bases to your roof, no matter what the angle of slope. Each Roof Ridge Hinged Bracket should be spaced 10 to 15 feet apart along the peak of the roof.
The Roof Ridge Hinged Bracket Kit® contains the appropriate number of brackets, plenty of nylon coated stainless steel wire and nickel coated copper crimps to attach the wires to the eyelets on the brackets.
Pricing: A calculation formula for estimating cost is based on the length of your roof peak: $12-$15 per linear foot of roof peak buys the SCS Roof Ridge Hinged Bracket Kit® which will contain everything you need for easy installation along with detailed instructions for you or your contractor. Email us with the length of your peak, any gables or drop downs (a couple of photos are very helpful) and we'll quote an exact price along with ordering details. If we need more info we'll call or email you. We welcome phone calls or emails to discuss your seagull infestation.
We'll answer your questions and recommend the appropriate kit for your roof. 347-389-5533 or email info@seagullcontrol.com and we'll call you at a time that's convenient.
Updating...